Posted by The Wine Slushie Guy on May 5th 2017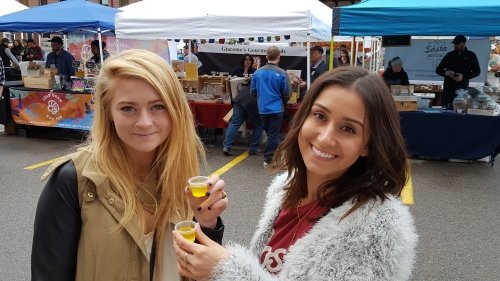 Last weekend was the kickoff weekend for SoWa Open Market in the South End of Boston and it was a good weekend in spite of the showers on Sunday.
This year is the first year SoWa is going to be on Saturday and Sunday and I was admittedly worried about how Saturday was going to turn out, but there were more people on Saturday than I've ever seen at SoWa.
Now granted it was 82 degrees out and sunny and beautiful day for wine slushies, but still, I was impressed.
I asked a number of people how they found out about it and most said Facebook.
Glad to see the Facebook promo working.
I was sampling my favorite, Watermelon, as well as the Peach Mango Bellini.
I had Pina Colada, Mai Tai, Dublin Mudslide, and Sangria wine slush mixes available to buy as well.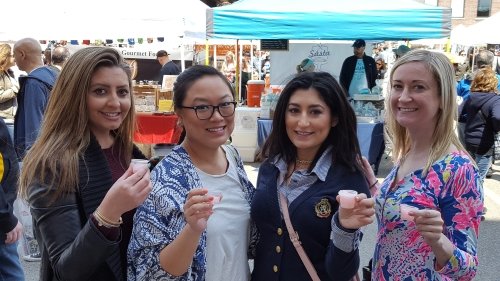 If you have never been to SoWa Boston, may I suggest a visit.
There are hundred's of vendors spread across multiple areas.
There is an art & craft section, a farmers market/specialty food area (that's where I am), and a food truck area.
The vendor next to me on Saturday, Kirstyn with Seacoast Sweets, had some of the best premium chocolate you will ever find...her chocolates rival Godiva or Ghirardelli (am I'm not even getting paid to say this) and I know she will back for a number of days this summer.
So if you are in the Boston area and like premium chocolates and wondering who sells wine slushies, where to buy wine slush mix, or where are there wine slushies near me, stop by for samples from both of us and make it a 2 for 1.
I will be there May 6-7 & May 13-14 and June 10-11 & June 24-25. I will add dates in July till the end of the season in Oct as I get closer.
The SoWa Farmer's Market is in the parking lot of 500 Harrison Ave in Boston's South End. Hope to see you there!
Cheers!
Dan